Quantum Sound Therapy Course
Course details
The keys to multidimensional music…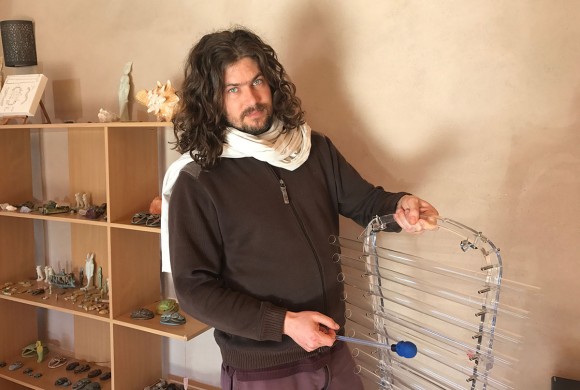 Our innovative Quantum Sound Therapy courses are comprehensive and professionally run, and lead to a Certificate of Competence. The courses are given by Aymeric Blanc Schenrey, who is a musician and sound therapist who has been in practice for over 13 years. You can choose between two options: the shorter course (80 hours over 10 days), or the longer course (120 hours in five modules spread over 6 months).
Our courses in Quantum Sound Therapy offer you a thorough understanding of all aspects of Quantum Sound Therapy© (multidimensional music therapy).
Inspired by the demonstration in 1925 by French physicist Louis de Broglie that "All matter in the universe – including the human body – vibrates", Quantum Sound Therapy is an exploration of the interaction between sound and the human body. The body is responsive to all vibrations and sound waves. By correcting the body's own vibrations, therefore, one can act upon most physical and psycho-emotional problems from which an individual may be suffering. The method used is non-instructive and applied without conventional hands-on manipulation or devices of any sort. The only tools are the human voice and other musical instruments. For those who wish for it, we have an option in the Quantum Sound Therapy programme of modules on how to run group or individual sessions and how to awaken one's intuition and perceptions so as to become a fully resonant instrument oneself. We adapt the course to suit participants, as well as the needs of their employers, as necessary.
You can also learn how to play the various sound tools, both crystalline (crystal bowls, didgeridoo, diapason, bells) and non-crystalline (Amerindian flutes, gongs, etc.).
Aims of the Quantum Sound Therapy course
To know and understand the science of Sound Therapy,
Identify the various physiological and psycho-emotional problems that Sound Therapy can influence.
Define and apply solutions for any problem encountered using an appropriate choice of instruments.
Course Contents
1. Know and understand the science of Sound Therapy
Know the history of Sound Therapy
Understand the notion of A=423 Hz and its effects on the physical body
Define the vocabulary and terminology used in the practice of Sound Therapy.
2. Identify the various physiological and psycho-emotional problems that Sound Therapy can influence.
Identify the influences sound has on the different parts of the body
Be able to describe the approach to different problems and disorders
Experiment with the various musical instruments used in a Sound Therapy session (e.g. Tibetan bowl, crystal bowl, etc.).
3. Implement appropriate professional solutions with appropriate choice of instruments
Dialogue with the person about their current situation
Apply appropriate solutions in a Sound Therapy session
Because of the continually high amount of plagiarism of our site, we only reveal a small amount here of the actual teaching. If this is enough to whet your appetite, then rest assured, there's a good deal more!
Registration for courses
Cost of the course: €2300 euros. Certain applicants may be eligible to apply for funding. Not subject to VAT (Article 293 B of French Tax Code). Un acompte de 30% sera demandé pour toute inscription.
A deposit of 30% must be paid at time of registration to reserve your place. Once we have your signed and completed registration contract, we will organise a telephone meeting with you in order to discuss your training goals.
If these dates do not suit you, we can also adapt to your calendar.
Contact us and we will synchronize at best in a dynamic of fluidity : contactquantaum@gmail.com
DATE OF NEXT COURSE 
May session: from the 18 until 24.
June session: from the 9 until 15 .
July session: from the 1 until 7.